Digital Transfer Hot Melt Powder Adhesive DTF Powder
DTF Transfer film printing textile pigment ink for printing T-shirts. DTF Powder is applied to DTF prints after printing. This DTF transfer adhesive powder is applied to DTF prints after printing by manually dipping or through a built-in powder shaker on the machine.
The Medium adhesive is our favorite. It's a nice balance between fine and coarse.
DTF Transfer Powder Adhesive
Hot Meal Powder Adhesive
The Hot stamping powder process can be evenly spread through the powder process on hot stamping film, strong adhesion, washing fastness, good water resistance, and fast drying speed.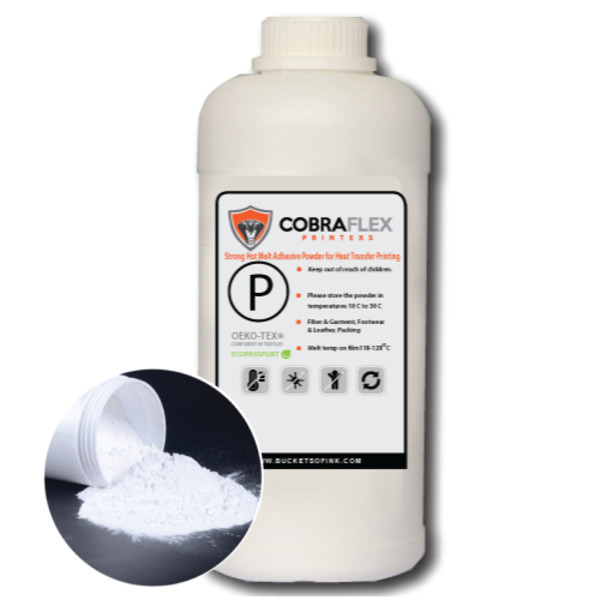 Digital Transfer Hot Melt Powder Adhesive
Cobra Flexible Hot Melt Adhesive Powder
This kind of hot melt powder elastic hot stamping powder technology is special, the white powder form is a kind of low melting temperature, soft and elastic solvent-free macromolecule adhesive, its resistance to wet and dry washing performance is good, powder uniform, wear resistance, low-temperature resistance, better flexibility, and bonding strength. Powdered polyurethane hot melt adhesive is made of polyurethane resin mixed with formula additive and ground into adhesive powder by cryogenic grinding. It is especially suitable for adhesion of high elastic cloth such as Lycra, cotton cloth, nylon cloth,
swimsuit cloth, high elastic cloth, chemical fiber, leather, EVA, ironing drill, flocking, shoe and cap interlining cloth, and many other types. It is lower than the general traditional hot melt adhesive use temperature and good bonding effect, printing ink is transparent after the powder machine sprinkles on the surface for bonding, the over-drying passage temperature is 120° C-135 °C drying furnace, pressing operation temperature is 140°C ~165°C, time 10-12 seconds.
Looking to take your screen print, embroidery large format
or promotional product company to the next level.
Try Direct to film apparel printing