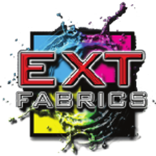 EXT Fabrics: Your Trusted Partner in Printing, Proudly Partnering with Cobraflex Printers
Discover the power of collaboration in the world of printing through our esteemed partnership with Cobraflex Printers. As a reputable dealer, EXT Fabrics is honored to stand alongside Cobraflex, combining our expertise to deliver an unmatched printing experience.
Why Choose EXT Fabrics as Your Cobraflex Printers Dealer?
1. Unrivaled Printing Solutions: As a distinguished dealer of Cobraflex Printers, EXT Fabrics offers you access to a remarkable array of cutting-edge printing solutions. From innovative printer models to premium inks, we provide the tools you need to bring your visions to life.
2. Expert Guidance: Backed by our deep understanding of the printing industry, we're here to guide you. Whether you're navigating the world of printing for the first time or seeking to elevate your current setup, our expert team is dedicated to assisting you every step of the way.
3. Commitment to Excellence: At EXT Fabrics, we share Cobraflex's commitment to excellence. Our collaboration means you can expect top-notch products and exceptional service that meet and exceed industry standards.
4. Genuine Products: When you choose EXT Fabrics, you're choosing authenticity. Our partnership with Cobraflex ensures that every product we offer is genuine, ensuring the highest quality in your printing endeavors.
If you're located in this area you're in for an exceptional screen printing experience.